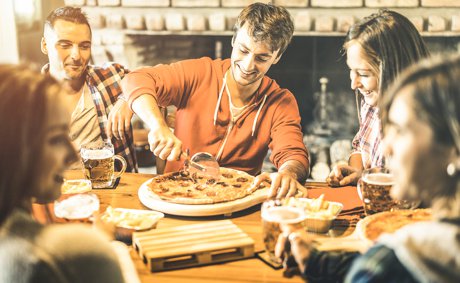 Boston property is ablaze with tastiness as an amazing array of restaurants cater to all types of taste buds lingering in the city. Pizza is pretty much pleasing to everyone. Luckily finding the best hidden slices of pie in the region has become much easier. Boston Pizza Tours uncover the best pizzerias offering up decadent slices of heaven.
Tours are great for both locals living in Boston and visitors to the area. Combining history and dining these leisurely treks provide invaluable insight. Historic territory in the North End is traveled with witty guides who live locally leading the way.
Originating at the corner of Hanover and Cross Streets, the North End Pizza Tour explores Boston's oldest neighborhood, Little Italy. While walking participants can feel the history surrounding them as guides relay information and amusing trivia. Sights seen include the Old North Church, Paul Revere house, Copp's Hill terrace and Copp's Hill burying ground. In between historic sightings pieces of the best pizza around are shared by one and all.
Follow the Footsteps of the Founding Fathers Once Living in Boston
Toasts ring out during the Historic Taverns Pizza Tour. Here the group heads out to a variety of pubs frequented by the founding fathers themselves. Pints are raised in the Bell in Hand Tavern and stories are told about times past. Next stop is the Blackstone Block where the Boston Stone is found. Pizzerias visited are proclaimed delicious and no one leaves hungry.
Boston Pizza Tours adds a bit of festivity to their tours during the holidays. Things get somewhat spooky on Boston property throughout the Haunted Pizza Tour. The bravest of brave journey through Boston's Murder District and observe the crypts beneath Old North Church. Boston's oldest ghosts are introduced to the not so faint of heart on the trail. A bit of whimsy follows the Holiday Lights Pizza Tour. Twinkling lights illuminate the way into downtown where visits are paid to City Hall Plaza, Christopher Columbus Park, Faneuil Hall and Quincy Park. Partake of mouthwatering slices of pizza while celebrating the season!
Reservations for all tours can be made online or by calling 617.401.0661. Boston Pizza Tours recommend dressing according to the weather and wearing athletic shoes. Come learn about the city one bite at a time. Yum!